---
---
Tibetan Copper Bracelet for Men and Women Rope Bracelet Beads Good Lucky Handmade Jewellery
🎁Just for today, we offer you a special offer 🎁
💥 We are selling 1000 units at the lowest price
$ 34.90
after, the price is reset to its original cost
$ 80.00
 💥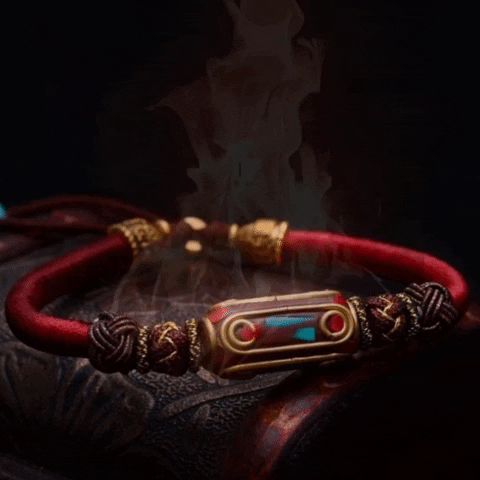 This beautiful bracelet is part of our Authentic Hand Crafted Collection this Braided Tibetan Braided Bracelet has a one of a kind Totem Charm.


The last 30 units! ! !

Sold out soon! ! !
First come, first served! ! !
These beautiful bracelets from Tibet are handmade by Tibetan Buddhists and craftsmen. You may wonder what makes them so wonderful, not only are they handmade, but they are also tied up as Buddhists recite mantras and prayers.

What is a mantra? A mantra is a sequence of words or syllables that are chanted repeatedly as part of Buddhist practice. A mantra can be seen as a seed to energize an intention and keep it in mind. Mantras evoke enlightenment and are therefore generally used during meditation.
Features:
Comfortable adjustable length secured by a reliable pull tab closure and safety

Top high-end quality, not easy to fray multi-color Thai rope strings

Non-fading long-lasting metal hardware

Highly resistant tension mounted rope chain and Chinese knot that will not unravel easily with constant pulls


What makes this bracelet different from the rest?

This bracelet is designed by an actual Feng Shui expert, Master Xi.
The components of this bracelet are carefully selected by Master Xi and it is optimized to give you the best Feng Shui.


Product Details
Metals Type: Copper Alloy
Bracelets Type: Thread Bracelets
Configuration type: voltage mount
Chain type: rope chain
Gender: unisex
We are by far the store with the lowest prices. Take advantage today and take your bracelet!

Beware of imitations! Our quality is the best on the market.
---