---
---
📷The best photos to remember the little ones at home🎬
Prevent children from damaging your phone and buy CamToy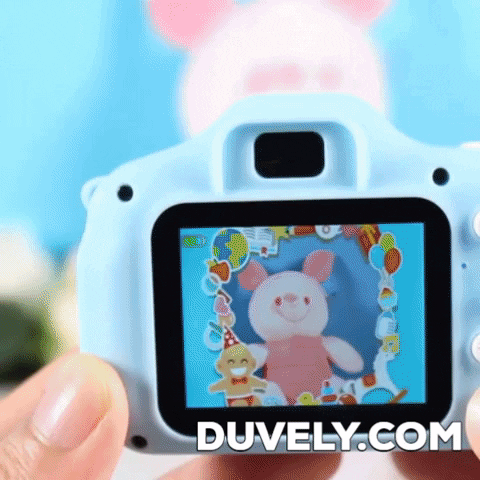 Introducing our Best Selling Shock-Proof Digital Camera for Kids Age 3 to 15! This Rechargeable HD digital camera can take up to 1920x1080P Video with Premium IPS Screen Quality  specially made for Kids and Toddlers to gain their interest in photo taking! With its Safe Silicone Material, it is designed with an environment friendly soft silicon cover with protective shockproof shell. Pictures and Videos are be retrieved by connecting to your Computer! the Digital camera can be used for 2.hours by taking photos and 1.5 hours by recording. Fun Camera Feature includes different frames that is meant to improve kids' creativity!
⭐Details
📌3.0 Mega pixels and 1080p HD video
The kids digital camera has dual cameras, selfie is available, the front and rear are both 8.0 Mega pixels, greatly improved the photos definition compared with other children cameras on the market. The toy video camera can take up to 1080P Video, equipped with 4x digital zoom, will keep the clear wonderful moment for boys or girls.

📌Multiple functions, More fun for children
Upgrade new kids cameras and camcorders comes with more functions, based on the original photo capture, video recording, playback, increase self-timer, date setting and flashlight. Also the photo and video mode have added 8 scene selections and 4 shooting zooms, will attract children to use and own a happy hour.

📌Built-in battery, rechargeable kids camera
Built-in 3.7V rechargeable lithium battery, when children take kids camera, just open the switch key, then can enjoy the fun of taking photo, easy to use for child. Important tip: the charge must be used by adults or under the monitor of adults.

📌Safe Silicone and shockproof material
Use the eco-friendly Soft Silicone non-toxic material, Protective shockproof Shell, durable and safe for kids, provide them a comfortable way to take photo or record video with the child camera.

⭐Features



Color: Pink, Green and Blue

Function: timed shooting, continuous shooting, photo frames, etc.

Charging time: 2-3 hours

Working time: 3-6 hours

Camera Size: 8.3*4.6*4.5cm (It's mini size for Kids)

Weight of Camera: 67g 

Camera resolution: 1080P: 1440x1080 | 720P: 1280x720 | VGA: 640x480
---